Bears @ Rams – Staff Picks
Standings
Logan Bradley 4-2
T. 1 Ryan Dengel 4-2
T. 1 Mike Page 4-2
T4. Jack Wright 2-4
T.4 Sean Fox 1-2
Mike Page
I wrote in my last Film Room article that we should all continue with our unanimous winning predictions until the Bears prove us wrong, and some of the other writers were like, "nahhhh." With Aaron Donald lining up against Rashaad Coward, or whatever practice squad LG we throw out there, I get it. I'm sure he's doing his best Spice Adams impression this week as he watches film on the Bears pass protection.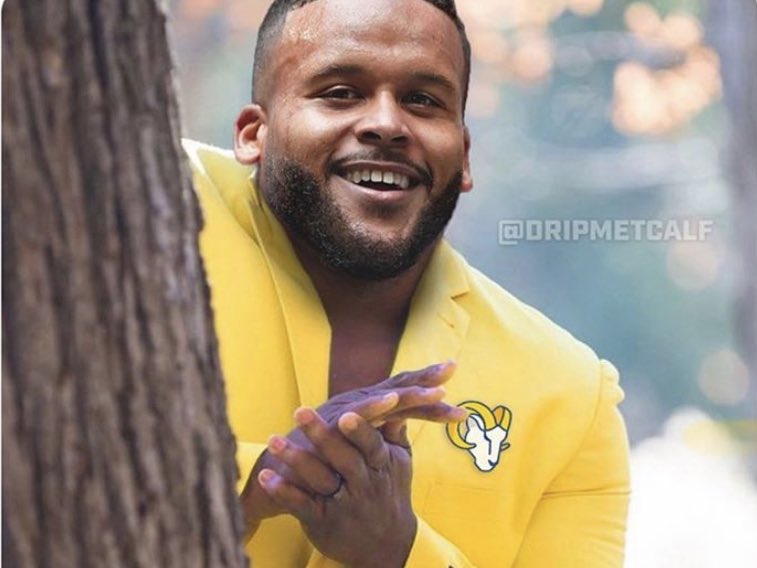 The man playing on the other side of the ball does not scare me at all. Jared Goff has been HORRIBLE against the Bears dishing out 4 INTS, losing a fumble, and getting sacked 3 times with 0 TD in 2 games. I love to watch the Bears harass him more than any other quarterback in the league, and I'm not sure why. Maybe it's because I know he's an imposter of the true Californian kid – Sunshine from Remember the Titans.
Every week I have hope for the Bears offense, even going as far as predicting 34 points against the Panthers last week. I'm wrong time and time again, but it's going to hit one week, and I'll claim to be a genius. I hope it's this week.
Prediction: Bears 23, Rams 17
Ryan Dengel
The Chicago Bears are a team with flaws. The Chicago Bears are 5-1. I know a lot of people aren't buying the hype, but I am. The Rams on the other hand have a lot of hype, but don't deserve it. The Rams four wins have come against the worst division in football, the NFC East (Eagles, Cowboys, Giants and Washington).
Side note: the NFC East could be won by a team with less than 7 total wins. It's time to rethink the playoff format.
Sure, the Rams kept it close against Buffalo, but couldn't secure a win. The Bears on the other hand have been excellent in close games. This game could be a low scoring affair, or maybe a shoot-out… it's 2020, anything is possible…except the NY Jets winning a football game.
Questionable penalties have stopped this Bears defense from being called the best in the league. I get the sense that they shine on the big Monday Night stage.
Prediction: Bears 20, Rams 10
Logan Bradley
Don't tell my Mom, but I kind of got into gambling a little bit. The spread on this one has the Bears +6, and I'm sad to report, that feels about right.
Los Angeles does just enough on offense and more than enough on defense (AKA, they have a shutdown CB for Allen Robinson and the best run-stuffing DT in the game) to give me pause on picking the Bears in this one.
No, I don't think the Bears are as "Paper Tiger"-ish as some National pundits are crying, but I do think the Rams have an understandable edge in this game. Maybe if this one's in Chicago I'm writing something different, but something tells me we don't have enough offensive ingenuity to pull this one off.
Prediction: Rams 24, Bears 20
Jack Wright
The combined record of Bears opponents so far this season is 15-21. The combined record of Rams opponents this year is 12-24-1. The Bears defense gives up 337.2 yards per game. The Rams defense gives up 318.5 yards per game.
This game is an enigma wrapped in a mystery TBH. The media incessantly insists the Bears aren't any good. To a degree, I cannot blame them. Sure, their record is fantastic. So far, the Bears have overachieved IMO.
A part of me believes that the Bears have the Rams number. Goff has performed galactically bad against the Bears in previous years. A 44.5 passer rating!? Dude, that is hella bad bro. I think the Bears defense is in Goff's head and dancing on his brain. Head Coach Sean McVay is built different but cannot unlock the code that is the Bears defense. So, a part of me believes those trends matter. Moreover, this Bears D is outperforming Bears D version 2018 in some statistical categories; a fact that makes this team eerily similar to the 2018 squad. Remember that? DOMINATING defense and a mediocre offense. Sounds familiar. See also 2020 Bears. The Bears are 26-35 all time on MNF. Their MNF road record is poor. This game will be decided by the far superior offensive weapons the Rams possess.
Prediction: Rams 28, Bears 17
Sean Fox
As you may have already noticed, the Bears schedule is continuing to get harder as the season progresses. The Rams will be another tough test for them this week in LA at the beautiful new SoFi Stadium (can't wait to see a game at one of these awesome new stadiums when the world goes back to normal).
The Rams D-line is one of the best in the NFL led by future first ballot HOFer and the NFL's equivalent of Thanos in Aaron Donald. He's accounted for 7.5 of the Rams 20 sacks so far this season and will undoubtedly wreak havoc against a Bears O-line in desperate need of help (looking at you, Ryan Pace). The Bears will also see a familiar face in former Bears first round pick Leonard Floyd. Considering how poorly the Bears O-line has been playing, Nick Foles should have a long night of running away from Donald. With Jalen Ramsey locking down Allen Robinson, the Bears will need Anthony Miller, Darnell Mooney and Jimmy Graham to step up big time.
On the defensive side of the ball, the Bears will face one of the top five best offensive units in the league led by Jared Goff, a trifecta of RBs (Malcolm Brown, Darrell Henderson and Cam Akers) and one of the best WR corps in the league led by Robert Woods and Cooper Kupp. Roquan Smith and Danny Trevathan will have their hands full on the ground while Eddie Jackson, Jaylon Johnson and Kyle Fuller will have a tough test through the air. I anticipate this being another defensive battle.
Prediction: Rams 24, Bears 23